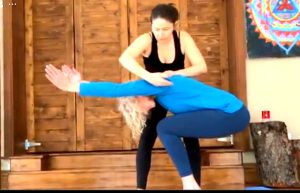 This type of our sessions is becoming distinct due to capacity of studio space and busy training schedule of our students and instructors.
How does it work:
We meet you over the phone call or video call and discuss your goals, your health condition, your physical activity level, your sports, what worked and what didn't.
Imagine Yoga practice designed specifically for you – for your own goals in mind, for your unique body type, for releasing your own areas of tightness, working only at the level that you need. You will not look at anybody in front or beside you trying to compete with them, you will be in your own, most comfortable place for you with attention of the instructor forwarded to you only, looking at the way how your body needs to move in order to achieve freedom in joints and muscles.  Each time you achieve new goals your program will be changed to accommodate your new needs. This is the most beneficial way for anybody who wants to get all desirable benefits for the body and mind.